About us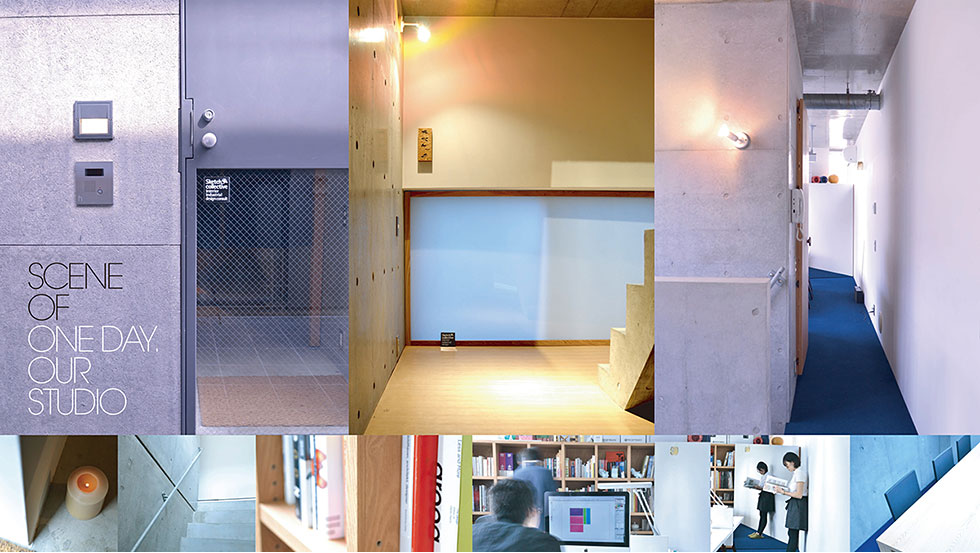 Office data

Sketch Collective Noun Co., Ltd.
FARO KAGURAZAKA-1F, 5-1 Fukuro-mach, Shinjyuku-ku, Tokyo 162-0828Map
Tel: +81-3-6228-0985 / Fax: +81-3-6228-0987 /
Service Detail

Industrial design

Product design
Product planning and concept work
Merchandising and its planning
Inventory management and statistical analysis

Interior design

Exhibition planning and design
Showroom and retail space planning and design
Interior design and coordination

Design consulting

Formulation of corporate identities programme
Mapping out design manual (guideline)

Original products

Manufacturing and sales of original products

Web shop
Designer Profile

Masashi Okawa(Design director/CEO)

Born in Osaka in 1977. Graduated from Department of Architecture, Faculty of Design, Kyoto Seika University.
After working on space planning at a large interior design company, he gained experience in industrial design at a design consultancy office.

Having acquired experience in both interior and industrial design, he started working as a buyer as well as designer and director of interior/product design at BALS Corporation**, which owns a retail company 'Francfranc'.
**: A company that offers home furnishing and interiors design, both in Japan and globally.
The company runs well-known home furnishings brands such as Franc Franc, BALS TOKYO, and J-PERIOD.

In 2009, he established Okawa Design Office.
Later that year the office was incorporated and became Sketch Collective Noun Co., Ltd.

He built up a new brand 'HEMTEK' in 2015, which deals with city active gear, apparel and accessories.
In the same year, he also launched an online shop 'Bucco & Mark Market', nearly a private store, with his wife – she is also his business partner.

He is currently a buyer, a shopkeeper and also a designer.
Some people may find this a little bit unique and different – Maybe his position could be a quite new thing in the design industry and there are probably not many cases before.
Therefore, as a matter of convenience, we officially call him as 'Design Director', which means he works and challenges for whatever he finds interesting.
Favorite Things

2013: Became a member of Cheese Professional Association
2013: Won a Red Dot design award, one of world's most famous international design awards, in Germany

People and things that have amazed me


John Lennon

,

Haruomi Hosono

,

Le Corbusier

,

Kurt Cobain

,

Luis Barragán

,

Miles Davis

,


Pharoah Sanders

,

Leon Thomas

,

Roy Ayers

,

Sid Vicious

,

Shinichi Hoshi

,

Ryotaro Shiba

,


Shotaro Ikenami

,

Stanley Kubrick

,

Junichiro Tanizaki

,

Buckminster Fuller

,

Ango Sakaguchi

,

Marcel Mauss

,


Claude Lévi-Strauss

,

Masao Maruyama (political theorist)

,

Kumagusu Minakata

,

Steve McQueen (an actor)

,


Shuji Terayama

,

Michael J. Fox

,

Steven Spielberg

,

Nagaharu Yodogawa

,

Ettore Sottsass

,

Achille Castiglioni

,


Raizo Ichikawa

,

Takeshi Kaiko

,

Paul Rand

,

Saul Bass

,

Lou Dorfsman

,

Kohei Sugiura

,

Serge Gainsbourg

,


Andrei Tarkovsky

,

Straight, No Chaser (music by Thelonious Monk)

,

Rem Koolhaas

,

Kenji Sawada

,

Aldo Rossi

,


Yusaku Matsuda

,

Rudolf Steiner

,

Adolf Loos

,

Bill Murray

,

Deconstructivism

,
Three Days of Rain (directed by Michael Meredith, presented by Wim Wenders),

Thelonious Monk

,


and Kiyoshiro Imawano, my legend


People who taught me what life is:


Hisanobu Tsujimura

,

Yoshiyuki Morii

,

Fumio Takashima

, and

Taku Motomizu
Message

We need courage to go 'a step beyond' our role, now.

Architects in the past once created masterpieces in which they designed and planned holistically, from as little a thing as a doorknob, to furniture, lighting, road layouts and signs, and all the way up to a city plan.
Nowadays, however, people in most creative fields, and none more than architects, are hardly ever involved in projects, whether big or small, from beginning to end, nor, in many cases, is there much interaction from one industry to another. Perhaps, back in those times when economies were growing rapidly, the best way to achieve a more efficient and rational system of production was to have a vertical manufacturing framework, subdividing tasks to the maximum extent, turning each worker into a specialist.

Over the many years for which this structure has now been in place, our focus has gradually shifted to become 'how to be efficient' and we have turned into a 'group of functional parts', that works efficiently but in which each has no interests in what others are doing, as if to say that there is no space to think about 'something else' – and we end up having no one who is able to take control of the whole.
This loss of ability to understand and control the 'whole' has perhaps resulted in us losing our ability to react quickly when faced with a crisis. It's my feeling that this indifference to people outside of one's immediate industry or specialism – something that people have practiced unthinkingly for a long time, despite sometimes feeling uneasy about it – was more prominent before the Japan's crisis of 2009. But the problem lies not in the division of labour itself, but in the miscommunication that has sometimes arisen from this process of specialisation, and from the indifference that specialists in each field have sometimes developed towards anything that is 'outside'.

If this is the case, however, I see a chance to make a difference if we, as individuals, each tries to change a little. We can go 'a step closer' to what we used to categorize as 'something else', by showing interest in and respect for what others do, by trying to interact across disciplines and industries and to 'step beyond' our roles and comfort zones. I believe we can make a big difference in our time if individuals start to think comprehensively with their own minds, and act accordingly. This idea too has become a backbone of our work. That is why, unlike conventional design offices, we are involved in analysis of sales and shipping statistics, so that we are always a step closer to both management and sales sides of the businesses and so avoid thinking of those as 'something else'.

We also try not to limit ourselves in the industries we work with. If we stay working in one industry for too long, we begin to loose our critical edge, become institutionalized, and again end up seeing everything else as 'something else'. This is why we have broadened our working field to a new industry that requires design for a specific use – a medical industry – from 2012, in addition to general consumer products (e.g. household products, furniture) in which we have been working since our establishment.

It may seem as if there are no connections between these industries with which we work. However, I feel this interdisciplinary approach of ours offers the important opportunity to see something new. We will continue to go 'a step beyond', all the time exploring ever-new realms.